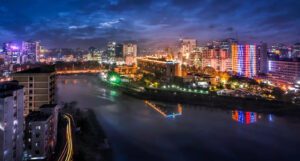 Bangladesh, country of South Asia, located in the delta of the Padma (Ganges [Ganga]) and Jamuna (Brahmaputra) rivers in the northeastern part of the Indian subcontinent.
The riverine country of Bangladesh ("Land of the Bengals") is one of the most densely populated countries in the world, and its people are predominantly Muslim. As the eastern portion of the historical region of Bengal, the area once formed, along with what is now the Indian state of West Bengal, the province of Bengal in British India. With the partition of India in 1947, it became the Pakistani province of East Bengal (later renamed East Pakistan), one of five provinces of Pakistan, separated from the other four by 1,100 miles (1,800 km) of Indian territory. In 1971 it became the independent country of Bangladesh, with its capital at Dhaka.
Total population: 171.70 million
Capital city: Dhaka
Currency: Bangladeshi taka coded as Tk
Language follows: Bengali, English, Hindi
Life in Bangladesh from the students' perspective
Warm and Friendly People: Bangladeshis are known for their warm hospitality and friendly nature. Indian students can expect a welcoming environment and can easily build connections and form friendships with locals.
Affordable Cost of Living: Bangladesh offers a relatively low cost of living compared to many other countries. This can be advantageous for Indian students, allowing them to manage their expenses more comfortably while pursuing their studies.
Vibrant Cultural Heritage: Bangladesh has a rich cultural heritage with a blend of Bengali, Islamic, and tribal traditions. Indian students can immerse themselves in the vibrant culture, explore historical sites like the ancient city of Bagerhat or UNESCO World Heritage sites like the Sundarbans, and participate in cultural festivals like Pohela Boishakh (Bengali New Year) and Durga Puja.
Cuisine: Bangladeshi cuisine is diverse and flavourful, closely resembles that of North India. From mouth-watering biryanis and curries to street food like pani puri and jhalmuri. Indian students can savour a variety of culinary delights that are similar to some Indian dishes while also experiencing unique local flavours.
Educational Opportunities: Bangladesh has several renowned universities and educational institutions that offer quality education across various fields. Indian students can benefit from the educational opportunities available and pursue their academic aspirations in a supportive learning environment.
Language: Bengali is the official language of Bangladesh, shares similarities with several Indian languages, particularly Assamese and Bengali spoken in West Bengal and Assam. Hindi is also a popular language there. Indian students may find it relatively easier and communicate with people in their day-to-day lives.
Natural Beauty: Bangladesh is known for its natural beauty, including its extensive river systems, lush green countryside, and picturesque landscapes. Indian students can explore scenic destinations such as Cox's Bazar (the world's longest natural sandy beach), Sylhet's tea gardens, and the serene beauty of the Sundarbans mangrove forest.
Festivals and Celebrations: Bangladesh celebrates a variety of festivals throughout the year, including Eid-ul-Fitr, Durga Puja, Pohela Boishakh, and Victory Day. Indian students can participate in these festivities, experiencing the cultural vibrancy and the joyous atmosphere associated with these celebrations.
Historical and Architectural Sites: Bangladesh is home to several historical and architectural wonders. Indian students can visit landmarks like Lalbagh Fort, Ahsan Manzil, and the Shat Gambuj Mosque to explore the rich history and architectural marvels of the country.
Professional Opportunities: Bangladesh's growing economy presents potential professional opportunities for Indian students. With industries like textiles, information technology, pharmaceuticals, and more, there may be internships, part-time jobs, or post-graduation employment options available to gain practical experience and enhance their career prospects.
Overview - MBBS in Bangladesh
| | |
| --- | --- |
| Recognition Body | MCI, WHO, BM & DC |
| Average Course Fees | 35-55 Lakh INR |
| Living Expanses | 10-15 Thousand INR/month |
| NEET Requirement | Must have qualified within 2 year prior admission |
| MCI approved Institutions | 60 + |
| Course Duration | 5 + 1 year |
| Medium of Instruction | English |
| Eligibility | 50% in Physics, Chemistry and Biology Aggregate |
| Intake Season | February – July |
| IELTS/TOELF | Not Required |
Popular MBBS colleges in Bangladesh
Location: Dhaka
Total course fees: $40,000
Location: Chittagong
Total course fees: $40,000
Location: Dhaka
Total course fees: $42,200
Location: Gazipur
Total course fees: $44,000
Location: Dhaka
Total course fees: $46,000
Location: Bogura
Total course fees: $44,000
With the 25 public universities and 50 private universities for medical education, MBBS in Bangladesh is a good choice for Indian students. It is one of the low-cost MBBS programs among foreign countries for Indian citizens.
Students have to clear the eligibility criteria of the government of Bangladesh for MBBS admission in Bangladesh. According to the eligibility criteria of Bangladesh, they choose the best of the students which improve the quality of MBBS in Bangladesh.
The quality of teaching of Bangladeshi Medical Universities reflects by the NMC passing percentage of MBBS in Bangladesh which is quite higher than any other country, i.e. 27-30%.
Apart from the quality, the cost of MBBS in Bangladesh is also a positive point. The fees of MBBS course in universities in Bangladesh is very low as it comes under the SAARC quota admission criteria.
The students who graduate from the best medical universities in Bangladesh are eligible to appear for major tests like the USMLE, PLAB the screening examination conducted by NMC and can practice in any country across the globe.
Key Highlights of MBBS in Bangladesh
Benefits of MBBS in Bangladesh
Affordable Tuition Fees: Bangladesh offers MBBS programs at a relatively lower cost compared to many other countries. The cost of living in Bangladesh is also affordable, making it an attractive destination for students seeking quality education at an affordable price.
High-Quality Education: Bangladesh has a well-established education system and offers a high standard of medical education with experienced faculty and modern facilities. Many medical schools in Bangladesh are recognized by international medical organizations such as the World Health Organization (WHO) and the Medical Council of India (MCI).
English-Taught Programs: Most MBBS programs in Bangladesh are taught in English, which makes it easier for international students to follow the coursework and communicate with faculty members and peers.
Clinical Experience: Bangladesh medical universities offer opportunities for hands-on clinical experience in a variety of healthcare settings, enabling students to gain practical skills and knowledge necessary for their future careers.
Internationally Recognized: MBBS degree obtained from Bangladesh universities is recognized by many countries worldwide, including India, making it easier for graduates to pursue their careers internationally.
Government Recognition: The Bangladesh Medical and Dental Council (BMDC) is a statutory regulatory authority responsible for the registration and regulation of medical practitioners in Bangladesh. The council ensures the quality of medical education and regulates medical practice in the country.
Syllabus of MBBS in Bangladesh
Phase
Duration
Subjects
Examination
1 st phase
1½ years

Anatomy
Physiology
Biochemistry

First Professional MBBS
2 nd phase
1 year

Pharmacology & Therapeutics
Forensic Medicine & Toxicology

Only lecture, small group teaching (practical, tutorial etc.), clinical teaching (as applicable) & formative assessment will be conducted in following subjectsGeneral Pathology part of Pathology, General Microbiology part of Microbiology, Medicine & Allied subjects, Surgery & Allied subjects

Second Professional MBBS
3 rd phase
1 year

Community Medicine & Public Health
Pathology
Microbiology

Only lecture, small group teaching (practical, tutorial etc.), clinical teaching (as applicable) & formative assessment be conducted in following subjectsMedicine & Allied subjects, Surgery & Allied subjects, Obstetrics and Gynaecology.

Third Professional MBBS
4 th phase
1 year

Medicine & Allied subjects
Surgery & Allied subjects
Obstetrics and Gynaecology

Final Professional MBBS
Syllabus Source: Bangladesh Medical & Dental Council website 
Is MBBS abroad better than India?
MBBS abroad is a better options then private medical in India, especially in terms of cost, private medical in India costs a fortune more then that of many countries abroad.
Why Rare Education for MBBS abroad?
Expertise: Rare Education have years of experience and in-depth knowledge about the admission process, eligibility criteria, fees, and other requirements for pursuing MBBS abroad. We can guide you through the entire process and help you avoid common mistakes and pitfalls.
Time-saving: The admission process for MBBS abroad can be complex and time-consuming. Working with Rare Education can help save a significant amount of time as we can handle all the paperwork and follow-up for you.
Access to information: Rare Education have access to a wide range of information about various medical schools, their fees, and programs. We can help you compare and choose the best options based on your needs and budget.
Professional guidance: Rare Education can provide professional guidance on the best country and medical school to choose based on your academic background, personal interests, and career goals. We can also help you with the visa process, travel arrangements, and settling into your new surroundings.
Support throughout the Process: Rare Education provide ongoing support throughout the entire admission process and beyond. We can answer any questions you have, provide updates on your application status, and help resolve any issues that may arise.
Working with Rare Education for MBBS abroad admission can provide numerous benefits, including expertise, time-saving, access to information, professional guidance, and support throughout the process.
Is FMG Exam tough to crack?
Comparing FMG exam with NEET, we can safely say it is not at all a tough exam. Although there are no specific matrix to judge how tough an exam is, but considering the passing ratio of FMG exam which is roughly 20-25% to that of the percentage of candidates who get selected for government medical college through NEET which is roughly 0.02%, FMG exam is definitely a tough exam in the field of medical studies.