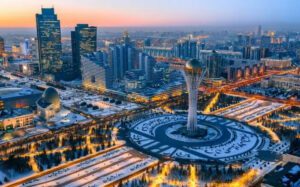 Kazakhstan is a Democratic, Secular, Constitutional Unitary republic.  Kazakhstan is a member of the Commonwealth of Independent States, the economic Cooperation Organization, and the Shanghai Cooperation organization. Kazakhstan is the richest country in Central Asian nations due to its large oil and natural gas reserve.. Its biggest city is Almaty,which  is a long-standing exchange center point whose historic points incorporate.
Total Population: 18.459 million
Capital city: Nursultan Astana
Currency: Kazakh Tenge coded as KZT
Language: Kazakh and Russian
Life in Kazakhstan from the students' perspective
Welcoming and Friendly People: Kazakh people are generally known for their warm hospitality and friendliness towards foreigners. Indian students can expect a welcoming and inclusive environment, making it easier to adapt to the local lifestyle.
Vibrant Student Community: Kazakhstan attracts a significant number of international students, including Indians. This creates a diverse and vibrant student community where Indian students can connect with peers from different countries, exchange ideas, and form lasting friendships.
Education System: Kazakhstan has made significant investments in its education system, attracting international students from different parts of the world. Kazakhstan offers affordable education compared to many other study abroad destinations. Indian students can pursue their academic goals without the burden of exorbitant tuition fees, making it an attractive option for higher education.
Modern Infrastructure: Major cities in Kazakhstan, such as Almaty and Nur-Sultan, boast modern infrastructure with well-developed transportation systems, reliable internet connectivity, and advanced amenities. This ensures a comfortable and convenient lifestyle for Indian students.
Cultural Diversity: Kazakhstan is known for its cultural diversity. Kazakhstan is rich in cultural heritage and offers numerous opportunities for Indian students to immerse themselves in a unique cultural experience. They can explore traditional festivals, visit historical sites, and engage in cultural activities to gain a deeper understanding of Kazakh traditions and customs.
Safe Environment: Kazakhstan is generally considered a safe country with a low crime rate. Indian students can feel secure and focus on their studies without major concerns for personal safety, allowing them to make the most of their time in the country but it is always important to exercise caution and follow basic safety measures.
Opportunities for Travel: Kazakhstan's central location in Eurasia makes it an ideal base for exploring neighboring countries and regions. Indian students can take advantage of their time in Kazakhstan to visit nearby destinations like Russia, Uzbekistan, Kyrgyzstan, and more, expanding their horizons and experiencing diverse cultures.
Quality Healthcare: Kazakhstan has a well-developed healthcare system, providing quality medical services to residents and international students. Indian students can access healthcare facilities and receive medical assistance if needed, ensuring their well-being during their stay.
Rich Natural Beauty: Kazakhstan is renowned for its stunning natural landscapes, including picturesque mountains, vast steppes, and beautiful lakes. Indian students can indulge in outdoor activities like hiking, skiing, and exploring national parks, immersing themselves in the country's breath-taking scenery.
Career Opportunities: Kazakhstan's growing economy and investment in various sectors create promising career prospects for Indian students. They may find internships, part-time jobs, or post-graduation employment opportunities, allowing them to gain practical experience and expand their professional network.
Overview - MBBS in Kazakhstan
| | |
| --- | --- |
| Recognition Body | NMC, WHO, FAIMER |
| Average Course Fees | 17-25 Lakh INR |
| Living Expanses | 10-15 Thousand INR/month |
| NEET Requirement | Qualification Mandatory |
| NMC approved Institutions | 10+ |
| Course Duration | 5 + 1 year |
| Medium of Instruction | English |
| Eligibility | 50% in Physics, Chemistry and Biology Aggregate |
| Intake Season | May-Dec |
| IELTS/TOELF | Not Required |
Popular MBBS colleges in Kazakhstan
International Medical School (IMS)
Location: Almaty
Total course fees: $22,000
South Kazakhstan medical Academy
Location: Shymkent
Total course fees: $32,000
Location: Almaty
Total course fees: $32,200
Al Farabi Kazakh National University
Location: Almaty
Total course fees: $32,000
Offering reasonable and affordable tuition fees for medical education, Kazakhstan is undoubtedly one of the best options for MBBS aspirants from all over the world. The country is home to some of the top medical universities in the world offering high-quality education, outstanding opportunities, and exposure to a multicultural environment. The established education system in Kazakhstan further makes it an ideal destination to study MBBS abroad, with the additional benefit of its alumni network providing graduates with career opportunities worldwide. The top universities in Kazakhstan offering MD programs also offer multiple options for clinical practice at renowned hospitals as part of their course curriculum.
NMC Approved Universities: 14

Recognition: NMC, WHO, ECFMG, FAIMER, WDOMS

Course Duration: 5 years + 1 Year Internship

Average cost of stay (Fee included): INR 20 Lakhs- 35 Lakhs
Key Highlights of MBBS in Kazakhstan
Key Features of MBBS in Kazakhstan
Self Actualized Alumni:
Reputable graduates from Kazakhstani medical schools are currently employed by the top hospitals throughout the world.
Universities with Affiliates, Accreditation, and Recognition Worldwide:
WHO, WDOMS, FAIMER, ECFMG, and Medical Councils of leading nations like the U.S.A., U.K., Middle East, Australia, India, Canada, etc. all recognize all universities.
Integrated Learning Process:
The curriculum for medical studies in Kazakhstan strikes the ideal balance between academic knowledge and real-world applications, which promotes practical learning.
Innovative universities:
Kazakhstan's medical universities are a top choice for students from all over the world because of their superior infrastructure, technological advancements, competent faculty, and other factors.
English-language instruction:
The whole MBBS course is offered through the medium of instruction at Kazakhstan's best universities.
Benefits of MBBS in Kazakhstan
Affordable Fees:
Given the excellent studying environment, medical school in Kazakhstan is incredibly affordable.
Reputed Universities:
The WDOMS, FAIMER, ECFMG, and MCI databases all have a list of Kazakhstan's medical schools. Most colleges expose their pupils to international knowledge.
Cost-Effective Living:
In addition to reduced living expenses overall, international students in Kazakhstan also frequently benefit from extra privileges and accommodations in public areas.
Technically Advanced Education:
Kazakhstan's medical institutions offer some of the most cutting-edge teaching strategies. The usage of technology benefits students by keeping their education current and engaging.
Talented and accomplished Faculties:
Kazakhstan's medical institutions offer some of the most cutting-edge teaching strategies. The usage of technology benefits students by allowing them to continue their education.
Guidance for NEXT: Students will get full support and guidance to appear the NEXT (National Exit Test)
1st year
Human anatomy
Molecular biology and Genetics
Histology and Embryology
ICT
Foreign Language (Latin)
Kazakh (Russian) language
Modern History of Kazakhstan
Fundamental Law and Anticorruption Culture
Physical Education
Internship (Nursing Assistance)
2nd year
Morphology and Physiology
Human Anatomy
Microbiology
Biochemistry
Philosophy
Sociology and Political Science
Professionally Oriented Foreign Language
Physical Education
Internship (Procedural Nurse Assistance)
3rd year
General Pathology
Preventive Social Medicine (PSM)
Introduction to Clinical Medicine
Biochemistry
Psychology and Culturology
Pathology of Organs and System
Immunology
Introduction to Pediatrics
General Medicine
Internship (Nursing Practice)
4th year
Pharmacology
Community Medicine
Introduction to Clinical Medicine
Introduction to Surgery
Implementation of Big Data Medicine
Dermatology
Gynecology
Obstetrics
Neurology
Urology
Pediatrics
Psychiatry
Infectious Disease
5th year
Professional Kazakh (Russian) language
Necrology
Cardiovascular System
Anesthesiology
Health Information System and E-Health
Fundamental of General Medical Practice
Surgery
State Examination (Specialty term)


Is MBBS abroad better than India?
MBBS abroad is a better options then private medical in India, especially in terms of cost, private medical in India costs a fortune more then that of many countries abroad.
Why Rare Education for MBBS abroad?
Expertise: Rare Education have years of experience and in-depth knowledge about the admission process, eligibility criteria, fees, and other requirements for pursuing MBBS abroad. We can guide you through the entire process and help you avoid common mistakes and pitfalls.
Time-saving: The admission process for MBBS abroad can be complex and time-consuming. Working with Rare Education can help save a significant amount of time as we can handle all the paperwork and follow-up for you.
Access to information: Rare Education have access to a wide range of information about various medical schools, their fees, and programs. We can help you compare and choose the best options based on your needs and budget.
Professional guidance: Rare Education can provide professional guidance on the best country and medical school to choose based on your academic background, personal interests, and career goals. We can also help you with the visa process, travel arrangements, and settling into your new surroundings.
Support throughout the Process: Rare Education provide ongoing support throughout the entire admission process and beyond. We can answer any questions you have, provide updates on your application status, and help resolve any issues that may arise.
Working with Rare Education for MBBS abroad admission can provide numerous benefits, including expertise, time-saving, access to information, professional guidance, and support throughout the process.
Is FMG Exam tough to crack?
Comparing FMG exam with NEET, we can safely say it is not at all a tough exam. Although there are no specific matrix to judge how tough an exam is, but considering the passing ratio of FMG exam which is roughly 20-25% to that of the percentage of candidates who get selected for government medical college through NEET which is roughly 0.02%, FMG exam is definitely a tough exam in the field of medical studies.